I'm linking up once again with Neely from A complete Waste of Makeup for Sunday Social! Enjoy and I hope you link up too!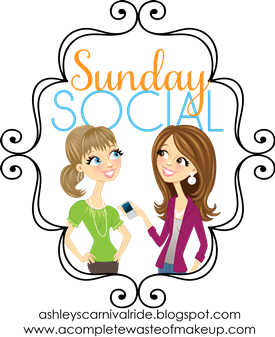 Favorite movie of all time?
This one is hard! I love a lot of movies but I don't know if I could pick an all time favorite! So here are some that I love:
The American President
You've Got Mail
The Family Stone
Love Actually
Needless to say I love romantic comedies.
Favorite movie quote?
Hmmm, not sure! I guess, "Love Actually is all around" from Love, Actually!
Best movie to watch for a girls night in?
When Harry Met Sally
Grease

Best breakup movie?
He's Just Not That Into You!
Favorite celeb eye candy?
Brad Pitt
Which movie stars closet would you want to raid?
Reese Witherspoon or Rachel McAdams
Ok so there you go! Hope you learned something new about me!