I'm linking up with
Shannon
for So What Wednesday! If you are new here I hope you will stay awhile and enjoy!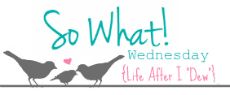 This week I am saying So What! to:
*if I ate three popsicles in like ten minutes. It's too hot outside
*if i still in my pajamas and it's 3 o'clock
*if i let my kids eat dinner in their diapers. I mean it is less to clean up!
*if I sleep late and miss Good Morning America my whole day is off
*if I love all ABC family shows. yes, I am 30 but who cares
*if I am stalling taking way the bottle
*if at any time I have like 46 things on my to do list
*if my child woke up at 5 am and I have had waaay too much coffee already



Alright friends! What are you saying So What! to this week?