I'm linking up with Shannon from Life After I Dew for So What Wednesday! If you are new here hope you stay a while and enjoy!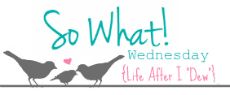 This week I am saying So what too:
The babies had macaroni and cheese for dinner last night

I haven't washed my hair in two days

I really need to mop the floors but just can't make myself do it

I'm debating watching two little girls come August

I hate my new swimsuit I ordered!
So there you have it! If you are a mom of mulitples scroll down and leave any questions or topic ideas you may have!