I'm linking up with Shannon for another "So What" Wednesday!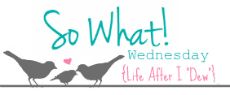 Here's What I am saying So What! to this week:
so what if I haven't gotten out of my pajamas today and it is 3 pm

so what if yesterday I freaked out and drove straight to pedi when Emma had hives

so what if I have already started the babes Christmas presents

so what if my kids have tried every sippy cup known to man

so what if I haven't done my hair in a week

if I have been obsessed with the Olympics but am kinda ready for them to be over so I can get to bed on time!